Testimonials
"
10/24/2018
Dear Henry
My son passed away Sept. 29th, 2018.  Norm from Curran Funeral Home in Leechburg, PA showed us your beautiful work of placing a loved one's ashes in glass forever. Well of course, I loved what I saw. I ordered a Pendant for myself and my son's best friend. We got them back this week and they are Stunning!!! They both look like a celestial galaxy and they are both unique and extremely dear to us!!!!  You may never know the full impact of how special your pieces of art with our loved one's ashes, and how comforting it is to have our loved one with us.
God has blessed you with a beautiful talent and gifted hands. I thank you from the bottom of my heart for making such a beautiful piece of art in remembrance of my son. I have enclosed his picture so you can see him.
God Bless and Thank you,
Christine Knepshield
"
"
July, 24, 2018
Recently, my dear sweet Mom passed away, at the age of 95, & I had been her caregiver for the past 17 yrs, as she suffered from worsening dementia. It was so hard to lose my Mom, & she had asked to be cremated when her time came, so I wanted to do something memorable with her ashes. The Funeral home had samples of beautiful pendants made by "Forever in Glass." I ordered the "Heavenly Blue" pendant for myself & it was absolutely gorgeous! My daughter flew down to be with me during my Mom's passing, which was difficult & very emotional for both of us, so I wanted to also make her a pendant to remember her loving Grandma. The Funeral Home ordered the wrong style pendant & I was very upset, as I wanted to give the 2nd pendant to my daughter at my Mother's Memorial service. I wrote to Henry @ "Forever in Glass" & explained the unfortunate situation. Henry responded quickly to my email, & made my daughter an absolutely beautiful "Peaceful pendant", which was what I had originally ordered, at NO expense to me! I was able to give my daughter her pendant on her birthday & she absolutely loved it! "Forever in Glass" makes quality products, which are both unique & artistically stunning, something to be treasured for years to come. I couldn't ask for better customer service or supportive-compassion for correcting the problem. I would highly recommend "Forever in Glass" & will certainly use them again if ever needed.
Sincerely, 
Laurel L.
"
"
June 14, 2018
Henry,
I am not sure how to express how grateful I am to have discovered the amazing work that you do.  From the moment I put my pendant around my neck, I found peace.  Having such an artful way to have my son close to me is more that I could have imagined.  It's not only comforting, but also classy and private.  I only have to share the true meaning of it with those I choose to.
I also wanted to thank you for the tour of your workshop and your generosity in re-signing my pendant when Ray's name wore off.  To see how you create these personal keepsakes was fascinating.  It was very clear to me that you bring a personal touch to each piece, thinking only of the loved one lost as you blend your talent with the cremains to deliver an exceptional and individual design.
I love my pendant.  You really captured the essence of Ray's personality with the blend of black and gold.  It exceeded all of my expectations!
Thank you so much Henry, from the bottom of my heart.
Linda V.
"
"
May 27, 2018
Dear Henry
I ordered two pendants through Andrew at J. H. Williams Funeral Home in East Providence, RI after my husband, David, passed away. One was for me and the other for my 21 year old grandson. The photos on your website made it clear that the pieces would be lovely and very individual. When they came I was amazed that they could be so breathtaking! They were beyond my expectations. 
My grandson was at college and he asked me to open and photograph his and send him the photo. He was really emotional when he saw it, which was so touching. He and his Papa were very close and now he wears his beautiful pendant 24/7. We both do! I know my husband's spirit is with me always, but now I have his ashes with me as well. It is so beautiful and special. I thank you from the bottom of my heart for what your artistic creativity has provided for me and my grandson. Priceless!
Sincerely, 
Jan B.
"
"
May 11, 2018
Hello Henry,
I received the custom piece yesterday afternoon for Beth's family, and they LOVED it. He was so thrilled and excited to give it to her aunt. He wanted me to be sure and let you know that you really hit it out of the park with that piece of jewelry; he started crying as soon as he saw it. He also decided that he was going to order 3 new pieces as well because everyone in the family is so impressed with your work!
Thanks so much for all of your hard work!
Sarah E. Kidwell
Haller Funeral Home
Chillicothe, OH
"
"
April 16, 2018
We utilized this venue to craft a keepsake to preserve ashes from my father and from my mother in law. Each one is unique and it is comforting to my wife, as it is to me, to have a part of loved ones preserved in glass. This small keepsake is comforting when praying or just thinking about them.
Bill L.
"
"
April 3, 2018
My 26 year old son passed away in February. Our funeral home had some items on display and I fell in love with the heart pendant. I ordered it in purple which is my favorite color. It is absolutely beautiful and I wear it every single day.
Donna J.
"
"
February 6, 2018
Good Morning Henry,
I wanted to drop a quick note to let you know how beautiful the HOPE Suncatcher is that is now hanging in the window where Arianna loved to sunbath.  It is a tremendous loss one that we have encountered so many times over and we miss them all.  Each one takes a little piece of me with them. When I opened the box at Beloved Friends I was overwhelmed with its beauty and I could see Arianna and her sparkling eyes in the piece.  Thank you once again for your thoughtfulness and attention to detail.
Robyn
Sugarland Ranch
"
"
January 22, 2018
Henry;
I did receive your product sample and I love your work, in fact the samples from the other person I was telling you about have been put into a drawer and are no longer on my display shelf.  I think your craftsmanship is much better and I will be offering these to every one of my cremation families.
Thank you for the sample and I'm sure that I will be sending you orders in the future.
Terri A. Charron
Armstrong-Charron Funeral Home
100 State St.
Groveton, NH 03582
603-636-2744
"
"
October 29, 2017
Dear Henry,
I cannot express how beautiful my recent Heavenly Blue pendant is. All that have seen it say it looks like a storm brewing at sea. We are all in the Maine fishing industry, including my mom Verona that passed. It could not be more perfect! You do amazing work. Please keep up this wonderful art that you do so perfectly, so others will feel the same as myself…Thank you from the bottom of my heart..Rosanne,  from Tenants Harbor Maine.
"
"
July 3, 2017
Our funeral home has been offering the Forever in Glass pieces for about 16 months to the families we serve. Every family has been over the moon about how wonderful and unique their individual pieces have turned out. I have three samples sitting in my office and they get tons of compliments on a regular basis. I would recommend Henry and his company to anyone who has experienced a loss and is looking for a way to memorialize their loved one. It is truly an exceptional company with beautiful designs.
Sarah Kidwell
Haller Funeral Home
"
"
June 8, 2017
Dear Henry,
Love, love love your products by the way – by far the best customer service and product that I have seen . . .we haven't done a whole lot of the glass prior to using you guys, a few here and there, but I just love your products and the turn around time is fantastic!  Just thought I'd throw that out there!!!
Cindy Burns
Director's Assistant
Bibber Memorial Chapel
67 Summer Street
Kennebunk, ME 04043
"
"
March 17, 2017
I just received my fabulous bead of Max…my heart. It is more beautiful than I thought possible and I received it much more quickly than expected. Thank you.
Michelle B.
"
"
January 24, 2017
Dear Henry,
I don't know how to begin to thank you for the beautiful pendant you made of Flurri & Blizzi. It is beyond my expectation. The quality and craftsmanship is superb! Knowing I will have my two little fur babies so close to my heart means so much to me.
You are extremely talented. I'm so glad to have found you. Thank you again for my Oh so perfect pendant!
Best regards.
Cheryl P."
"
"
September 27, 2016
Recently I lost my 17 plus, year old beloved companion, Zorro. I raised "Zor," from the age of 4 months old after rescuing him from the coming brutal winter in 1999. For this I was rewarded with uncompromising love and affection for everyday of the next 17 years of our lives together. When he suddenly passed away on September 23, 2016, inconsolable is the only word that comes to mind, and we are still crying for him each day. The creamatorium, told us about wonderful memorial items that are made with the ashes of the loved one, and preserved "forever in glass,"- thus the name. There are several different items that may be purchased and we chose both the paperweight and the charm (which you can wear everyday either on your neck or as a bracelet). Both of these items were created and shipped within 10 working days and you must know – they are truly beautiful. Henry, is the creator and you could not ask for a more compassionate human being to handle the ashes of one whom was so loved. Henry even sends back any remaining ashes so they can properly buried or placed back into an urn. My charm was missing the name of "Zorro" on it because the original order sheet had omitted it. I emailed Henry and he called me back within 5 minutes to say that he would gladly put Zorro's name on the charm for me. I sent it back and he refused to take an extra cent, telling me it was his pleasure to do this for me. There is a special place in Heaven for those who take care of and love an animal and I believe , there is also a special place in Heaven for someone like Henry as well. Along with the beautiful creations from Henry, you will also receive a card- the likes of which I have never seen, but says it all- "I will walk with you forever," – feet and paw prints, walking side by side. Please if you want to remember your beloved pet, this is the way to do it. It is done with compassion, kindness, and concern for those of us left behind.

Saundra W.
"
"
Dear Mr. Duquette,
Thank you so much very much for the beautiful glass beads you made for my Mother & I.
I lost my father to a battle of peripheral T-Cell Lymphoma in mid July. Looking online for something to put his ashes in seemed so impersonal, and not what I wanted. My dad is special and I wanted something special to remember him.
I loved the idea of a handmade piece of jewelry. It felt like a good choice, but I was still hesitant putting the order in. When my package arrived I could not wait to see the bead and how it turned out. I opened the box and saw an envelope thinking it was an invoice of what I purchased, but surprised by a beautiful written letter that brought tears to my eyes. Good tears, remembering tears. I wasn't expecting it, and it was a wonderful touch. I also loved the presentation in the small velvet bag.
Thank you for the extra effort you put in it. It was noticed and appreciated and will not be forgotten.
Love,
Yellie S.
Tuson, AZ
"
"
Good morning Henry,
I just wanted to extended a thank you for producing a great product. My (our) first order and we are all impressed how you presented the keepsakes, the extra cremains, and your thank you letter. Although selling glass pendants comes sporadically, we have hands down decided to reshape our keepsake collection in the selection room to enhance your product. Again, just a thank you for making us look good. J
Christopher J. DiIorio
Carpenter-Jenks Funeral Home & Crematory
659 East Greenwich Avenue
West Warwick, RI 02893
"
"
"I just received my glass pendant with my father, Wayne C. ashes in it.
I know each pendant is a little different and as it turns out, mine looks like a red heart floating in the heavens!
I cried when I got it. My dad and I had a special bond and I love that he is always with me.
I was touched by the poem on the card as well. Your professionalism and talent for the work is astounding. The funeral home the order went through is run by a friend of ours. He said he had seen many other company's creations, but your company far out did all others and would only have recommended you.
I am going to show my whole family. I can't wait.
Thank you again so much for your "gift" to me.
Cathy S."
"
"
Love these. I have had quite a bit of interest in my display lately. For those who question Henry Duquette's work…quality, service, and personality are all top notch. I have had the pleasure of visiting with him and his lovely wife in Maine as well as herein Mass. at the funeral home. A true artist and gentleman.
Jeff Koopman
Hays Funeral Home
Northborough, MA
"
"
Dear Henry,
I know we have never met but I have heard a lot of wonderful things about you and will maybe meet you someday. My name is Tracey.
I just wanted to tell you the pendant you made for me with some of my Father's ashes is absolutely breathtaking. I can not express in words what it means to me to have a piece of my Dad with me everyday. The colors in the pendant are so vivid and different sources of lighting bring out so many unique colors the pendant holds. I honestly can't thank you enough from the bottom of my heart and will treasure this pendant for the rest of my life. I was very close to my Dad and miss him dearly. I feel it takes a special person like yourself to be able to give people who have lost their loved ones this special sense of them with your beautiful work. I can tell you take great pride in what you do. Thank you again.
Be well,
Tracey
"
"
As a friend and fellow artist of Jim, I know he is smiling at the artistic piece you have created with his remains.  I was very excited when I received this piece. I have always been a fan of your work and now I have a piece that is very meaningful.  I will not be able to look at this piece without thinking of you and Jim together mulling over camper remedies, toasting a 5 o'clock glass of wine or chatting about the day's art show.

Thank you again for creating the wonderful pieces for myself and my family members. They will be forever treasured!

Your friend,
Maureen P.
"
"
Dear Henry,
I want to thank you for the beautiful pendant that you made. You made the whole process very easy.
I have to admit when I opened the box containing Gordon's ashes for the first time in order to put some ash in the tin that you sent me, I thought it would be difficult but strangely, it wasn't.  I felt as though I was freeing a part of him by doing this and helping him be a part of something creative and beautiful instead of being shrouded in a black box.
Again, thanks so very much for doing this.
Gratefully,
Selene L.
"
"
I received a testimonial from a Funeral Director regarding my business practices. It all comes down to trust and honesty, something that must be a cornerstone in anyones business, as it is in mine.
TO: Henry C. Duquette owner of Forever in Glass
I have gained so much respect for you. Your product is far superb and your integrity impeccable.
Thank you.
Anna Marie Foster
Foster Family Funeral Chapel
Carrollton, MO
"
"
Nick's ocean wave Forever in Glass pendant .
Looks like he could just grab his board and go !
I love you Nick ! XOX
Till The Sky Never Ends
Maureen H.
"
"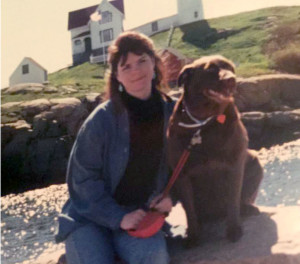 I love my Forever in Glass pendant! Cousteau was such a great dog. It's wonderful to have a wearable remembrance of her that is so beautifully done.
Diana S.
"
"
Dear Henry,
I was so pleased to get a bit of my beloved Ben back. Having this beautiful pendant is so special and so important to me. Ben and I were married for over 40 years and we did everything together and now, thanks to you, we still can. I will always wear and treasure my pendant. You have given a bit of Ben back to me and I feel him close to my heart. I have already told my daughter to bury me with my pendant, this way we will be together for all eternity.
Thank you again.
Rose Mangonet Iacono
"
"
Dear Henry,
I absolutely love my pendant. My daughter's death was so sudden and now I feel like I have her back in a small spiritual way. You are an artist and a genius to think of this.
Thanks again.
V.J. Martin
"
"
Thanks to the compassion, creativity and artistry of Henry, I can keep my beloved Lab/Hound Zoey close to my heart all the time. Thank you Henry.
Kitty
"
"
Dear Henry,
I thank you from the bottom of my heart for creating such a lovely pendant in memory of my dear Gordon.  I will happily wear it for years to come.  It means so much to me to have part of Gordon so close to my heart, along with the pieces that cannot be seen.
The card you shared with me was perfect.  I wholly believe and know that Gordon is still with me, just in another form.  He promised me he would be and I believe him.
I have passed along your information to my friend Donna, an artist, who just lost her mother.  I have been showing  my Gordon pendant around town all day with touching comments.
Thank you Henry,
Many blessings,
Barbara G.
"
"
Hi Sarah and Henry,
I just wanted to thank you both so very much for the glass pendant of my precious little girl cat, Tuesday. Don delivered the pendant yesterday morning, and it is simply and truly magnificent. It exceeded any sort of expectation that I had.
It is the perfect size, and is so beautiful. I can see myself wearing this necklace every day for a very long time. And it means the world to me that part of my best friend will always be with me in wearing this pendant.
So Sarah, thank you and Forget-Me-Not for arranging the creation of this piece for me. And Henry, I want to thank you for your amazing artistic ability in making this. It truly made a person who misses her friend deeply so very happy.
Thank you,
Melissa W.
"
"
Hi Henry,
I'm writing because I received my "heavenly" pendant you made with my cat, Kit's (Aka Kitty) ashes. It is absolutely beautiful and I am so happy with it! I've had Kit for almost 17 years and his loss has been extremely hard for me and I miss him dearly every day. Kit is always in my heart and I'm glad to have this piece of him I can wear so close to my heart all the time.
Thanks again,
Kim
"
"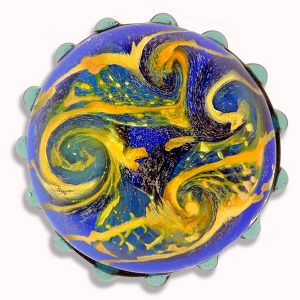 Henry made me a beautiful paperweight with sparkling bits of glass, which contained ash from the Twin Towers in NY. I collected the ash at the FDNY Ten House months after September 11, 2001. Each sparkling point reminds me of those who lost their lives that day. It's a very meaningful for me personally to memorialize those we lost.
Thanks again,
Steve E.
"