Testimonials
"
2/10/2023
Hi Henry,
I wanted to take a few moments to thank you for the absolutely stunning pendant I received today.  This made my day!
We lost our precious Onyx, better known as Onnie, shortly before Christmas.  We miss her terribly as she was part a huge part of our lives for almost 14 years.
Having this piece makes me feel closer to her and I will cherish it forever.
Your work is simply beautiful.  Thank you so much and thank you being so nice to work with as well!
Best,
Mary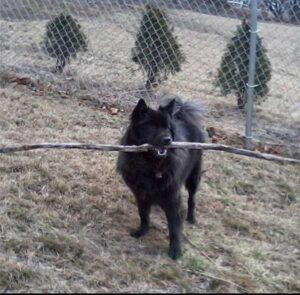 "
"
December 21, 2022
Hello Henry,
Received my 3 pendants today.  Stunning does not say enough, simply beautiful!  We lost our 13 year old girl,  Onyx, better known as Onnie, just a few weeks ago and these just made my day.
Thank you as well for chatting with me to answer all my questions.  You have been a pleasure to work with at this sad time.
I have attached a few pictures, however they do not your work justice.  Also attached a picture of our girl, who we miss so much 🖤 .
Thanks again,
Mary and Jim
"
"
June 20, 2022
Dear Mr. Duquette,
I received my repaired cremation pendant on Friday, it is beautiful!!!!!!    Thank you so much for repairing it and for your very quick and courteous response.
I contacted Peaceful Pastures to tell them how pleased I was with your service and I will be referring my friends to Forever in Glass also.     Thank you!!!
Sincerely,
Linda D.
"
"
June 1, 2022
My cat, Wink, died on May 13th of bladder cancer. It's still very raw and hurts a great deal. But when I received my heart necklace OMGOSH I cried like a baby. My Wink is back and around my neck. The heart necklace is amazing. I can't believe you guys were able to incorporate her cremains in the necklace. Thank you so very much. This made my week.
Cheryl L.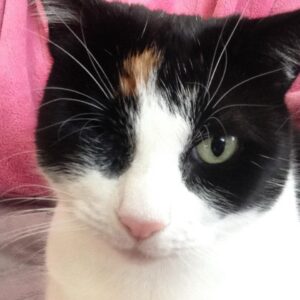 "
"
November 2, 2021
Thank you so much for the beautiful Pendant (Heavenly Blue) for my Milaya Moya. The pendant is treasured and helps remind me of the special times and my exquisite girl.
Kind regards,
Michelle M.
New Zealand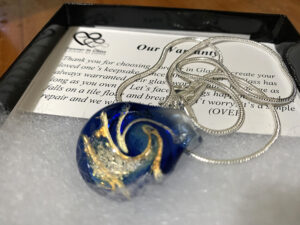 "
"
October 12, 2021
Just received the beautiful glass pendant that will hold a piece of my cat, Bits, who left this world way too soon and unexpectedly. I love it so much and am so glad to have a piece of Bits with me forever. Thank you all so much. The silver chain and leather chord that were included are very nice as well. It was delivered right when I was told it would be, and I'm so glad to be able to have a piece of my sweet girl with me all the time. A sweet note was also included, and they evened return the extra ashes.
Thank you so much!
Lindsey D.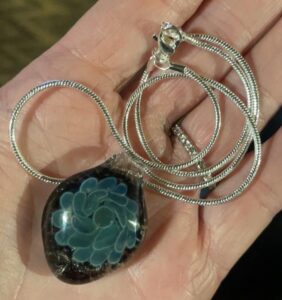 "
"
September 11, 2021
Good evening Henry,
I would like to thank you for the beautiful pendant you made.  It was very emotional to reunite with Lulucita. Everyone loved it and I made sure to give them your website.  I've been really depressed hope to overcome this soon.
Regards,
Silvana
"
"
July 8, 2021
I can't thank you enough for the beautiful piece I received for my beloved Nizmo. I lost her unexpectedly and very quickly. She was my heart and soul and now I have your beautiful piece to remember her by. 
Thank you so much for a small piece of comfort during my difficult time ? 
Cindy K.
"
"
May 1, 2021
Dear Henry,
I just received the glass bead necklace pendant you created incorporating my beloved Kelly's ashes. It's absolutely stunning and such a hugely meaningful keepsake. I love it so, so much.  Your craftsmanship is just lovely. Almost as lovely as our Kelly was!
Thank you for giving grieving pet parents such a beautiful way to remember our littles. I can't wait to wear it.  I'll cherish it always!!
With my most sincere thanks,
Elinor K.
"
"
April 21, 2021
I am SO thankful for the beautiful work you do and all the extra special touches. My beloved dog was always by my side while I worked and now he will continue to be with me. Thank you! ?
Kathleen K.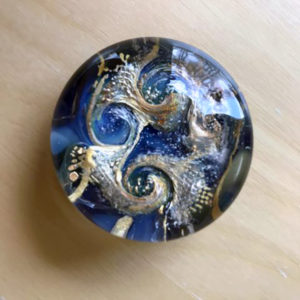 "
"
April 20, 2021
Thank you so much for repairing my pendant! It's just as beautiful as it was before I dropped it! ❤️
Michelle D.
"
"
March 20, 2021
The beautiful keepsake pendants are a gentle and loving reminder of our precious Cooper who passed away after a sudden illness. Thank you for your trusted work, we love the pendants.
Lynn V.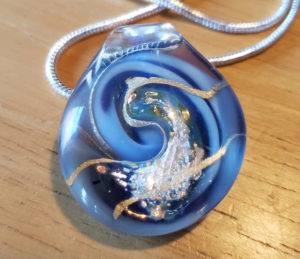 "
"
March 1, 2021
Dear Henry,
I cannot thank you enough for the beautiful necklace that honors my fur friends Cedes and Sprowt.  Both pendants are beautiful but I really wanted something with color that could portray happy memories, and the Blue Sky pendant you made is perfect!  I recommended Forever-In-Glass  to my dear friend Kara who also lost 2 dogs recently, Saki and Ori.  Hopefully she can find the same peace I did once I received my pendant.
Thank you Henry!!
Stay safe and stay happy!!
"
"
January 22, 2021
I have just received my beautiful remembrance bead for my darling dog Indie who I lost last month just before Christmas.
It is beautiful. I can't thank you enough and for the lovely card that came with it.
I will treasure it always and feel so comforted to have a part of my Indie with me all the time.
Thank you.
Barbara
Taranaki, New Zealand.
"
"
December 22, 2020
Hi Henry,
I just wanted to thank you for the special beads that you made for me on behalf of Pet Meadow.  We lost our dog Tralfaz after a brief illness. My husband and I, along with a friend of ours, really love what you made and will treasure them always. He was a special boy and we miss him terribly.
Sheryl G.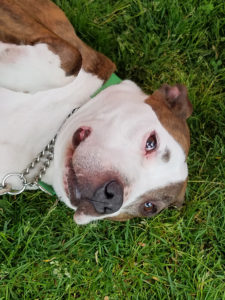 "
"
September 5, 2020
I got beautiful personalized beads to wear of each one "my boys", I have had an awful year and lost 4 of my 5 precious fur babies due to old age. I couldn't be more satisfied with how each one turned out. Thank you for these keepsakes they mean so much to me. Can't wait to get my most recent one back
April H.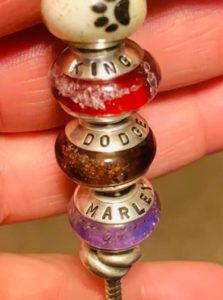 "
"
August 27, 2020
I just received my pendant. It's stunning. Absolutely beautiful work. I won't take it off for a long time. Thank you so much.
Cassie Marie D.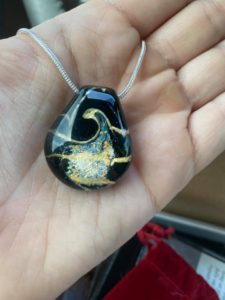 "
"
August 11, 2020
I just received the bead you made for me containing Sarah Momo's ashes. It is so beautiful and I will always cherish it. But what impressed me the most was the way that you returned her remaining ashes back to me. You could have thrown them away and no-one would have been the wiser, but instead, you treated her with reverence and for that I am extremely grateful. I was so touched by this small act of kindness that I could not stop crying. It may seem like a small thing to you, but it meant the world to me.
Thank you so much for showing my baby girl the respect she deserved.
Respectfully,
Masami M.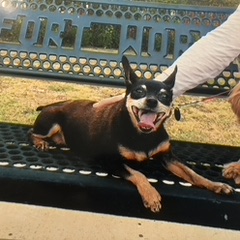 "
"
July 4, 2020
I just received my necklace. it is so beautiful! we loved our girl Cleo and now have an awesome way to remember her! thank u. we highly recommend!
Terry A.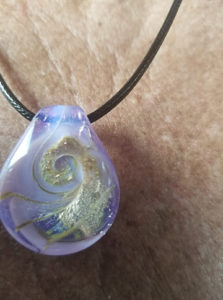 "
"
May 30, 2020
Hi Henry,
Hope all is well. I can't tell how much I admire and appreciate the beautiful necklace you created for me. We lost our beautiful Dacks, golden retriever, and you made a stunning masterpiece. We still have some ashes that were returned with my pendant. I would love to surprise my husband with the cuff links for Father's Day, peacefull.  We used Forget-me-not in Northborough, MA. They were amazing.!
Being in the vet industry I'm so impressed by your work. I look forward to spreading the word.
Thanks,
Heather P.
"
"
May 2, 2020
Thank you so much for this beautiful keepsafe! So in love and emotional!
Victoria S.
"
"
March 20, 2020
Good morning.
I picked up the sun-catcher that you made for Hoodsie Cup. THANK YOU! It's beautiful! Moving from one sunny spot to the next was Hoodsie's favorite pastime. This sun-catcher will now continue bringing the sunshine in.
Rimma K.
"
"
March 12, 2020
Received my necklace today and I am so impressed with the work you do.
Mary M.
"
"
1/7/2020
I want to personally thank you for applying your gift to the glass pendant infused with my Chloe's ashes. Of all my memorabilia I have of her, the pendant I wear every day is such a great comfort.
I appreciate the return of the rest of her ashes and the heartwarming card "I will walk with you forever". It seems to be that way because I feel her all around me all the time. Sounds crazy but I feel her presence!
Though she passed early November, I have a long way to go with my grief. If a dog can be your soul mate she certainly was mine for her 16 years.
I have attached a photo so you see whose ashes you so tenderly and beautifully crafted into a little bit of her I wear so close to my heart.
Thank you so much!
Kathy G.